Looking for Christchurch Concrete Services?
Christchurch Concrete Services is a professional concrete construction contractor group based in Christchurch New Zealand. We excavate, form, reinforce and place and finish concrete. We offer unapparelled concreting services and deliver projects efficiently and safely. We have open and honest communications with all our clients and work with transparency and integrity. From Concrete Cutting, Concrete Contractors to Concrete Driveways Christchurch.
Making your home look its best doesn't have to be difficult – let the professionals at Concrete services Christchurch take care of it for you. We offer a wide range of services to choose from, including concrete floors, driveways, and excavations. We're dedicated to providing quality workmanship at competitive prices, so you can rest assured you're getting the best value for your money.
Concrete is a versatile and durable material that is commonly used in a variety of construction projects. However, concrete can also be susceptible to several problems, such as cracking, spalling, and efflorescence.
Concrete Pumping

Patios, decks and alfresco

Footpaths including Council Crossover and kerbing

Concrete restoration

Decorative concreting

Exposed aggregate concreting

Pool surrounds and concrete requirements for landscaping

Slabs for sheds and small builds

Retaining Walls

Concrete Driveways Christchurch

Concrete Cutting
FREE INSTANT QUOTE!
Get a FAST Response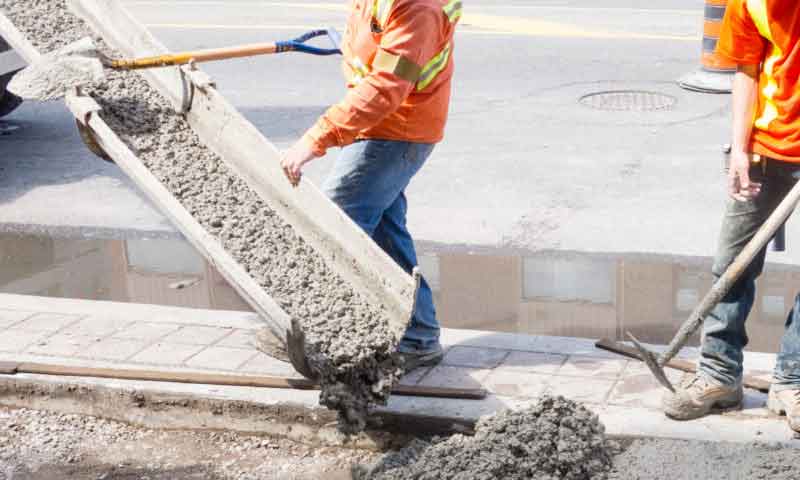 Problems of Christchurch Concrete
Concrete is one of the most versatile and widely used building materials. However, concrete is also susceptible to a variety of problems, from cracks and stains to settlement and heaving. As a result, it is important to choose a reliable and trustworthy service concrete contractor who can identify and address potential problems before they cause severe damage. Some of the most common issues associated with concrete include:
Cracks:
Cracks can occur in both new and old concrete and can be caused by everything from poor construction techniques to changes in temperature and moisture levels. While some cracks are cosmetic, others can weaken the structure of the concrete and cause further damage.
Stains:
Stains can be caused by a variety of factors, including dirt, grease, oil, and even rust. In addition to being unsightly, stains can also be challenging to remove.
Settlement:
Settlement occurs when the ground underneath the concrete settles or shifts, causing the concrete to crack or settle as well. This problem is often caused by poor drainage or inadequate soil compaction.
Heaving:
Heaving occurs when the ground underneath the concrete expands, causing the concrete to crack or break. Changes in temperature or moisture often cause this problem.
Christchurch Concrete Is the Solution You Need
Christchurch Concreting Services is a professional concrete construction company located in Christchurch, New Zealand. The company is a reliable and trustworthy concrete service provider. We excavate, form, reinforce, and place and finish concrete unapparelled services. We operate openly and honestly with our clients.

We have been in the business for many years and have a proven track record of providing quality services to our clients. We offer a wide range of concrete services, from minor home repairs to large commercial projects. No job is too big or small for us, and we always strive to deliver the best possible results. From Concrete Cutting to Concrete Driveways Christchurch.

If you are looking for a reliable and professional concrete service provider in New Zealand, look no further than Christchurch Concrete.
Concrete Installation
​
At Christchurch Concrete, we pride ourselves on installing high-quality concrete driveways that will last many years. This is ensured by our use of only the best materials and workmanship. Additionally, we always follow the standard thickness requirements – vital to a driveway's strength and longevity. For residential drives, concrete should be a minimum of 4-5 inches thick; however, if your commercial establishment experiences higher traffic levels or heavier vehicles passing by, you may need something even thicker than 5 inches. Other considerations during installation include:
​
Rebar and wire reinforcement

 – To maintain structural integrity, bars will be placed in a grid pattern with spaces at least 12 inches apart.

Adequately prepared subgrade

 – Use composition and compaction techniques to preserve a good subgrade. Depending on what is more appropriate, place crushed rocks, gravel, and other materials on the driveways.

Correct concrete mixes 

– We use high-performance concrete mixes for driveways because they need to withstand a lot of wear and tear. Prices may vary depending on the brand, but we will always give you a durable and low-permeability mix that can bear the weight and pressure of cars passing over it.

Correctly placed joints

 – Maintaining a maximum joint spacing of 10 feet is essential for preventing random cracks and premature damage in driveways that are 4 inches thick.

Proper finishing – Overworking the surface and finishing driveways too early is a common mistake contractors make. If bleed water is still present, it could affect the outcome of your project. To avoid this, we use a three-step process: first, we level off the concrete; next, float the concrete with wood; and apply a broom finish to improve traction.

Proper drainage

 -For adequate drainage, there should be a slope of at least 1/8 inch per foot towards the street.

Proper curing techniques 

– The final curing process for a concrete driveway includes various techniques, such as using plastic sheets, wet curing blankets, continuous sprinkling, or liquid membrane-forming.

Concrete Driveways Christchurch
When it comes to concrete driveways in Christchurch, we are the expert contractors you can trust to do a fantastic job. We have an experienced team who have been working in the industry for many years and know exactly what it takes to create beautiful, long-lasting concrete floors and driveways.

So if you are looking for expert concrete driveway contractors in Christchurch, you just found your solution. We would be more than happy to discuss your specific requirements and provide you with a free quote. Click here for more info on Driveway Concrete.
Contact us today to find out more on all of our services other than Concrete Driveways Christchurch.
We build concrete driveways in Christchurch
.
Concrete driveways are essential parts of landscaping plans for homes and businesses. We provide concrete solutions for all types of projects. Concrete is versatile, preferred for durability and appearance, and has low maintenance. Concreting your driveway does it all.
If you need a fast and reliable concrete contractor, please call us—we are experts in a wide variety of concrete applications and finishes, textures, and colours. We have worked with various homeowners and businesses to accomplish lasting concrete driveways.
Why Concrete Driveways?
​Concrete is an excellent driveway material. It is versatile, preferred for durability, appearance, and low maintenance, and indicates quality construction at first glance. A concrete driveway does it all.
Much like the masters at Sunshine Coast Concrete,  ​We usually use cast-in concrete for driveways that we can add color and imprint with a patterned design, depending on your aim. Concrete driveways look like bricks, tiles, cobblestones, or simple concrete patterns. Texture patterns can include bromide, swirl, or exposed aggregate.  
If you are looking for a Concreter Sunshine Coast then check out our friends! 
Retaining Walls Christchurch
We are also expert retaining wall builders in Christchurch and have many years of experience in constructing all types of retaining walls. Whether you need a small garden wall or a large commercial retaining wall, we can help. We use only the best materials, and our team is highly skilled in all aspects of retaining wall construction.
So if you need any type of concrete work done, please don't hesitate to contact us. We would be happy to discuss your specific requirements and provide you with a free quote.
Excavation, Christchurch
We are also excavation experts and can help with all your excavation needs. We have a wide range of excavators and other equipment we can use to excavate your property. Thus,  we can help with any type of excavation project, no matter how big or small. We also have a team of experienced operators who know exactly how to use our latest equipment to do the job quickly and efficiently.

So if you need excavation services in Christchurch, please don't hesitate to contact expert concrete contractors at Christchurch Concrete. 
We pride ourselves on our attention to detail and our ability to meet the individual needs of our clients. If you are looking for highly experienced professionals and qualified concreting service, please contact Christchurch Concrete today.
I needed to get an extension on my driveway. The concrete guys provided a good service and I found them efficient to work with. They were quick in organizing resources required for the work.
Thank you for a concrete job well done.
From the estimate stage to the prep work and actual laying of the concrete, all went really relly well – Great quantity estimation. Thank you again .